The fall is not spectacular on physical gold in France.
If we take the prices of FXGS, the new name of CRP Gold, the bullion is trading at 55,970 euros per kilo, which is roughly 2,000 euros lower than the annual highs.
Interest rates seem to want to rise quite sharply in the United States and the FED is considering a further rate hike of 0.75% in an attempt to nip in the bud the high inflation that is currently developing.
This rise in rates is not favorable to gold.
Quite the contrary. It is bearish.
However, this will not change the fact that central banks will not be able to raise rates as high as inflation so that we find positive real rates without triggering the general insolvency of all economic agents who are crumbling under debt. .
It will take some time for the markets to understand and accept that:
1/ The USA will not be able to defeat inflation by raising rates without triggering widespread insolvency and a crash of everything.
2/ That in Europe the situation is worse with the risks of an explosion in the euro zone. We are not talking about explosion but about fragmentation.
Conclusion, when gold goes down, it's time to buy.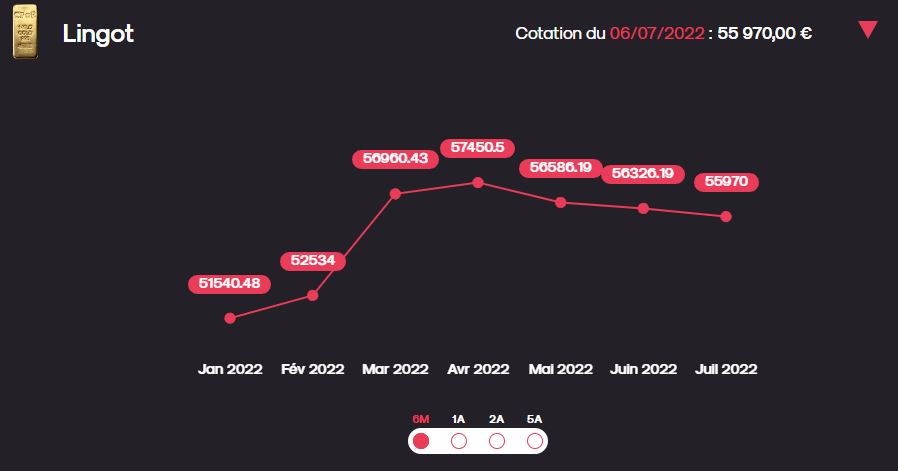 Still.
Buy the folds.
If you hesitate, smooth your purchases and do it in several times!
Charles SANNAT
"This is a 'presslib' article, that is to say free of reproduction in whole or in part provided that this paragraph is reproduced following it. Insolentiae.com is the site on which Charles Sannat expresses himself daily and delivers an impertinent and uncompromising analysis of economic news. Thank you for visiting my site. You can subscribe to the daily newsletter free of charge at www.insolentiae.com. »